Round Cable wiper and drier, Compact, reliable, quick install.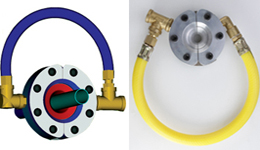 Real Wipe, Compressed Air operated cable wiprers wipe clean cable more efficiently than conventional blower based wipers or drilled round pipes. They are smaller, lighter and efficient. They also provide 360 degree uniform drying and cooling. Available in Aluminum and Stainless steel.
What is a Cable Wiper?
Cable Wiper is advanced and eficient replacement of drilled pipes and blower based cable drying / wiping system.
Which are the sizes available?
Cable wipers are available from 13 mm to 150 mm diameter and in Aluminum and SS construction.
How to install cable wipers?
Cable wipers are hinged and are made in two halves so installation is very easy and installation can be done without affecting / inturrupting extrusion line.
How much air is consumed?
Depending upon size and shim size used, air consumption is between 5 - 115 CFM (130 to 3200 SLPM)
Advantage
 

| | Safety, as no electricity at the point of application. |
| --- | --- |
| | No RF interference. |
| | Low cost of ownership |
| | Lower noise. |
| | Aluminum or SS construction |
| | Available in various sizes from 13 mm to 150 mm |
| | Reliable |

 
Applications
 

| | cable drying |
| --- | --- |
| | Cable cooling |
| | Tubing drying and cooling |
| | Surround cooling of extrusions |

 

Real Application picture

For Product Demo, check our video page