Vac Blow Gun, Compact, light weight vacuum cum blow gun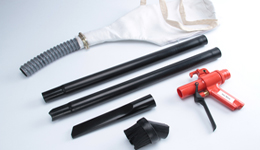 A low cost solution of wide range of industrial cleaning problems. The Vac-Blow gun is a powerful compressed air operated Vacuum cleaner, a Blow gun, and a Transfer tool- that too all in one ! Not only that it consumes far less compressed air than ordinary blow gun, infact it amplifies air upto 7 times the inlet compressed air. A Vac-Blow gun can be converted into blow gun within seconds by changing the direction of "Generator", it is virtually maintenance free as it has no moving parts.

Vac Blow Gun is supplied with washable high efficiency dust collection bag with duct hose, Two 450 mm L extension wands, One crevice cleaner, round brush, hose nipple and hose clamps.
Performance of Vac Blow Gun
 

| Inlet Kg/Cm2  | Air Consumption (CFM)  | Vacuum mm. Hg.  | Total Flow CFM |
| --- | --- | --- | --- |
| 2.0 | 11 | 27 | 75 |
| 4.0 | 15 | 49 | 105 |
| 5.5 | 20 | 70 | 140 |
| 7.0 | 23 | 87 | 160 |

 
Advantages
 

| | Strong & unbreakable. |
| --- | --- |
| | Light weight & convenient shoulder able washable dust collection bag. |
| | Can practically handle any thing from liquid to metal chips to powders. |
| | Washable high efficiency dust collection bag. |
| | Can be converted into air amplifying blow gun within seconds. |
| | Safe and dependable. |

 
Applications
 

| | Powder Coating & Paint shops. |
| --- | --- |
| | Pharmaceuticals, formulations & Cosmetics. |
| | Petro chemicals, Chemicals & Plastic granules conveying. |
| | Textile mills & Textile Process houses. |
| | Tool rooms, machine shops & fabrication shops. |
| | Automobile plants, workshops & garages, Railway workshops, Ship building. |
| | Aerospace industry. |
For Product Demo, check our video page