Coolant gun / water pistol, Used on CNC, VMC machine for job cleaning / cooling using coolant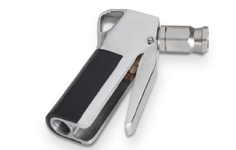 ALL GENERAL IMSUBS PRODUCTS ARE SUPPORTED FOR SPARES AND ARE FULLY REPAIRABLE. PLEASE BE FAIR TO ENVIRONMENT AND AVOID USING DISPOSIBLE PRODUCTS. WE COMMIT SPARE SUPPORT TO OUR CUSTOMERS.
Coolant guns are extensively used on CNC, VMC and other machining centers to cool and clean jobs. It may be used for coolant or water depending on specific requirement.
Durable and light weight Aluminum handle along with long lasting Adjustable brass nozzle makes ideal product for coolant / water jetting or spraying. Nozzle can be adjusted from powerful jet to wide misty spray.
We also provide high flow Quick Coupler with 3/8" BSP threads, suitable for our coolant / water gun as well as other applications.
Applications
CNC Machines
VMC Machines
Machining centers
Lathe machines
Drilling Machines
Boring Machines
For Product Demo, check our video page