Ergonomic Gun, Ergonomic blow gun for various air saving nozzle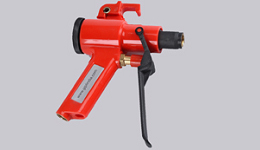 Ergonomic Blow Gun, PSH-7: Ergonomically designed blow gun, housed in tough and durable engineering plastic. It is fitted with lever to reduce operator fatigue and noise levels.

PSH-7 can be used with any blow nozzles to achieve maximum possible productivity and cost saving..

Compressed air  is the most  expensive utility in an industry, to l earn more about the cost of  compressed air and  how GIPL products  can help you  to save cost,click here.
Ergonomic Blow Gun, PSH-7 can be fitted with High thrust nozzle, Adjustable blow nozzle, high volume - high penetration blow pipes.
If your work area require very wide and high volume blow, eX blow gun is best choice.